A New Thing
An engaging and interactive way of learning more about the building blocks of the Christian beliefs, presented by a range of outstanding speakers.
Using TED-talk  style presentation, information will be presented in a concise manner, discussion and opportunity for Q&A will be given to attendees.
If you've ever wanted to know more about what Christianity is all about,
then this is the series for you.
More info on the sessions and speakers here.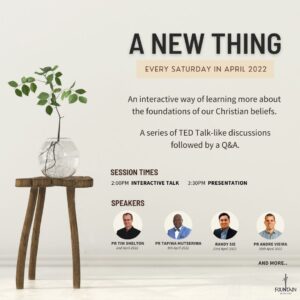 Hourly Schedule
Saturday
2pm

-

3pm

Interactive Talk
3.30pm

-

4.30pm

Presentation